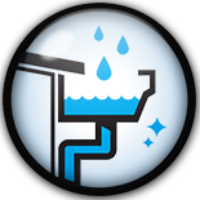 Gutters are the primary mechanism for moving water off the roof and away from your home. Overflowing water from clogged gutters will not only rot the fascia boards and stain the exterior faces, but also pour over onto the ground and seep into cracks of the foundation. Clogged gutters are one of the main reasons for flooded basements and leaky foundations.
The best way to avoid these problems is to have your gutters cleaned regularly or talk to our professionals to find out if gutter guards may be right for you. Depending on the proximity of trees to your house the cleaning schedule will vary anywhere from 1-4 times a year for interior cleaning. Outside cleaning will depend on overflow from clogged gutters.
Why Clean Out Gutters?
Benefits of Gutter Cleaning
•  Rainwater is efficiently channeled away from your home.
•  Avoids costly repairs/replacement due to flood damage.
•  Renews the beauty of your home (Increased curb appeal).
•  Removes rodent/insect infestations nesting in the gutter.
•  Prevents gutters from overflowing and staining the facing.
•  Protects landscaping from backed up water and root rot.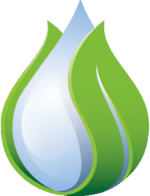 We harness the cleaning power of pure water.
frequently asked questions
When a gutter cleaning job is booked it includes cleaning the loose debris off of the roof and valleys, and cleaning out the gutters as well as a full clean up. If you would like the exteriors of the gutters washed, then please let us know beforehand and we would be happy to book that in as well for a small additional charge.

No, it only includes the bottom edge and outer face of the gutter. If you would like the soffits and inner lip of the gutter washed, then that must be booked separately.

When we clean the interior gutters we first remove all of the loose debris on your roof and in the valleys. Next, we ensure that all debris material inside the gutters is removed, then we check that the downspouts are clear and draining properly. A full clean-up of your yard is completed and we leave it cleaner than we found it. For gutters with guards installed, we clean off the tops of the guards and check the downspouts for debris to make sure your gutter system is draining properly.